Email marketing services in India
Digitalaka Provides a lot of time-saving tools which assist you throughout the campaign. Our chosen products will save you time on any task. List management tools, Professional layouts, and drag-and-drop email editors make the process with complex elements trouble-free. Additionally, an email marketing service provider can automatically let out those processes, which take a lot of time.
Mainly, if you are generating ads on a vast scale, you can save your precious hours. The key objective of an email marketing agency in India is to run fully productive campaigns with minimum effort. Let's go over the critical characteristics of email marketing services providers in India to figure out which tools and products will provide you with the best bang for your buck. Digitalaka is one of the best email marketing services provider companies in Noida, Delhi, Mumbai, Banglore, Chennai, Kolkata, Gurugram & more cities in India.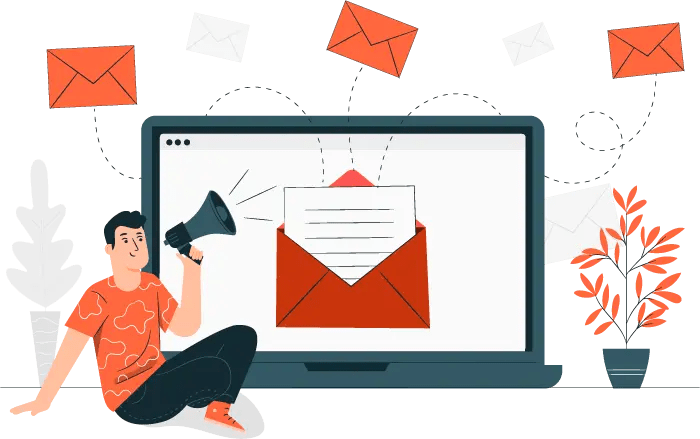 How does Email Marketing Works?
Features To Watch Out For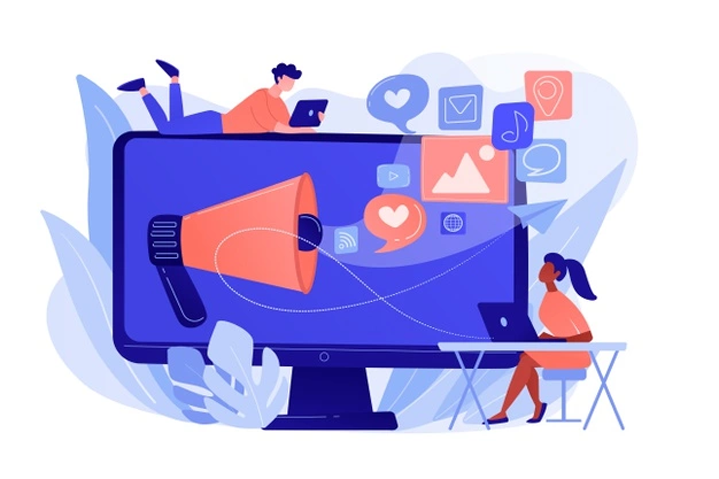 Benefits
Email marketing has a number of benefits. Some are listed below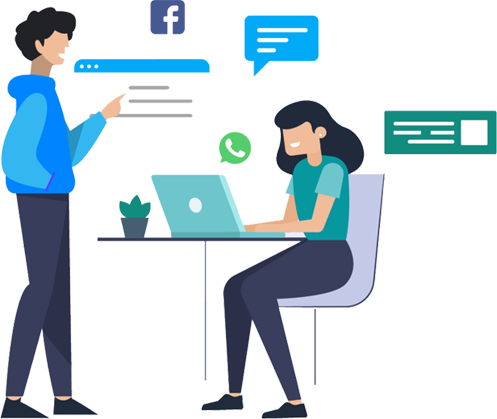 Ease-Of-Use
Finding an email marketing company in India where everyone in your organization can get help without any difficulty is critical unless your team members are the marketers and developers. Be attentive while you browse through the pre-set procedures and templates provided by individual email marketing services. Are you planning to use them, or will you make your unique templates? When you leave their pre-set paths, certain email marketing services lose their claimed ease-of-use quality.
If your system has graphic design tools for creating emails and work routines, that is a huge bonus. People who require this service can utilize a simple-to-learn editor immediately. The best thing is that they do not require any training to access the tools and are not forced to wait for people with the editor's knowledge.
The finest email marketing services provide support, walkthroughs, and documentation to educate consumers and guarantee how user-friendly their product is. It's a red sign if evaluations direct that customer service is slow or that answers are challenging to come by.
Our Email Marketing Servcies Pricing
Implementation and Integration
A crucial point to consider is how well your email marketing agency in India will integrate with your current stack. Solutions that interface with those products that you already use can help you overcome the issues and get the service with fewer hassles in the future, especially in CRM software and other client data sources.
Deliverability of Email
Your emails must make it to the inbox of your intended recipient. Period. If you don't have a high deliverability rate, your email efforts are doomed, significantly less than 95%. Deliverability is ensured in two ways by all the best email marketing services. They use SenderID, DKIM, and SPF on the backend to verify emails. They collaborate with Internet Service Providers to ensure that the IP addresses of the customer are not blacklisted.
Furthermore, good platforms will offer pre-made email templates consistent with privacy and anti-spam legislation and are visually captivating. Email marketing services assist you in creating captivating subject lines and intriguing content that attract customers to check and open your emails. They also offer subscriber management tools that prevent spamming and keep your list clean.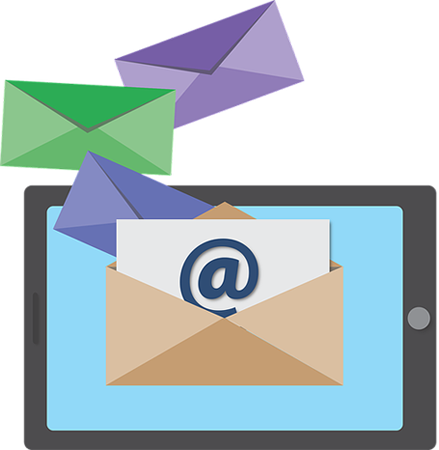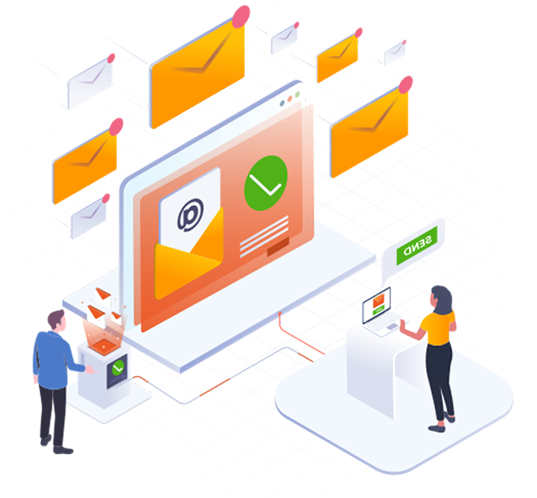 Customer Journeys and Email Automation
The level of expertise your work operations can handle is one of the most distinguishing (or restricting) elements of email marketing services. Entry-level solutions can assist you in automating the bunch of emails to welcome new subscribers and other comparable activities. You'll need a more powerful tool to introduce additional conditional or rational triggers that split or branch the client journey into more personalized and customized paths.
Knowing about the target audience is essential. Products with solid list segmentation capabilities will gather a wealth of information about your clients, allowing your automation to be more precisely targeted. For instance, segmentation is critical to your capacity to automate personalized communications. To ensure that customers only receive communications for the things they are concerned about, you may configure work operations triggers that focus on customers according to their involvement, shopping behaviour, and other trends.
Ways to achieve productive Email Deliverability rate
All of the email newsletters tools mentioned in this article have very high email deliverability rates. Also, there are several steps that you can take to ensure the deliverability of the marketing emails. These are:
Using professional Email ID: Spam detection algorithms are built into email services like Outlook, Gmail, etc. These algorithms also detect the sender's email address. A business must use a business email address like [email protected] rather than a generic Gmail or Hotmail address. This will ensure that your deliverability rate exceeds the industry standard.
Sending interests based targeted emails: It is critical to tailor your emails according to user segments. Using email marketing software like HubSpot and Constant Contact makes it simple to divide your subscribers into categories like active, inactive, custom segments, interested in specific themes, and so on. This can help you get the best click-through rate and open rate for your email marketing initiatives, which is a significant element in email deliverability in the future.
We always urge you to send a personalized and unique welcome email to all your new subscribers and then branch these subscribers according to their needs and interests. Check our ultimate step-by-step guide to construct a successful campaign for email marketing.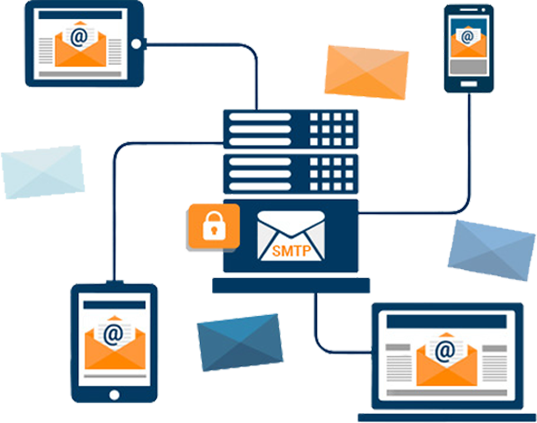 FAQs on Email Marketing Software
We have answered a lot of queries after assisting thousands of people in selecting quality email marketing software.
Some of the FAQs related to Email marketing services are answered below –
Is it possible to send bulk emails from Outlook or Gmail?
Yes, in theory. However, the chances of getting the email accounts suspended is high if you do this. Outlook, Gmail, and G Suite are not designed for sending a massive number of emails. They are a fantastic way to send professional business emails.
Is email valuable marketing for SEO?
There is no direct effect of Email marketing services in India on search engine optimization. But it can increase the website traffic, which can result in additional shares and, in some cases, mentions and backlinks. Comments and shares are used by most of the search engines, including Google, to rank different websites. Consequently, email marketing can indirectly enhance your website's rankings. To boost your ranks, you might also consider excellent WordPress tools and SEO plugins.
How many times should I send emails for marketing?
As often as possible without becoming obnoxious. You can send emails frequently, but not so repeatedly that people unsubscribe or, worse, classify these emails as spam. Regrettably, it varies depending on the type of business. One email per month is more than enough for some. On the other hand, sending emails daily is sufficient for others. Ultimately, it is a matter of trial and error to see what works best for your targeted audience.
What is the cost of email marketing?
The cost of email marketing will be determined totally by the subscriber count you have, the email software you are using, and the overall number of emails you send each month. Small businesses should expect to spend between $20 and $300 every month on email marketing if they run their campaigns. If you hire an agency for email marketing, your monthly costs could be as high as $500.
What should I do to increase the number of subscribers on my subscriber list?
Offering an incentive in return for signing up is the most nuanced approach to creating your subscriber list. You may promote this deal on your website, on landing web pages, and on your social media accounts. This will result in maximum sign-ups, and your leads will qualify themselves.
When and how should I send my emails for marketing?
The appropriate to this question varies from one company to the next. It requires a trial-and-error method and several testing. This testing method is the most excellent method to figure out what is best suited. Generally, people open their emails in the morning time and on weekends. But again, it may vary as the habits of your audience may differ. It is advisable to experiment and decide according to the collected statistics.