Buy Dedicated SMTP Server
SMTP Service Provider, an email delivery vendor, utilized SMTP Simple Mail Transfer Protocol, also known as SMTP relay services, as a way of sending bulk emails across Internet Protocol (IP) networks. SMTP Server Provider In India is considered the first stop for your email message. A protocol named SMTP is used to communicate directly with your system – whether a desktop or laptop computer.
Organizations choose to create their Private Unlimited SMTP but it needs technical knowledge to manage it. So many small businesses and enterprises find reliable SMTP Server Provider In India on board to do mass-mailing like Digitalaka. We are a reliable dedicated SMTP Relay Service Provider for bulk email service that helps organizations send emails with their full access. Customers can maintain the IP reputation of the bulk email marketing servers and protect them from sending spam emails. Sometimes, a few customers try to use an SMTP Relay Service Provider for spamming but, this is not the right way to send emails.
Digitalaka is known as a top-rated Dedicated & professional SMTP service provider in India, the UK, the USA, Canada, Germany, Morocco, and all over the world. Being a trustworthy name in this industry to Buy SMTP Server, we provide high-quality mass emailing services and bulk email marketing services in India and various locations across the globe.
Our Plans: INR SMTP Plans, USD SMTP Plans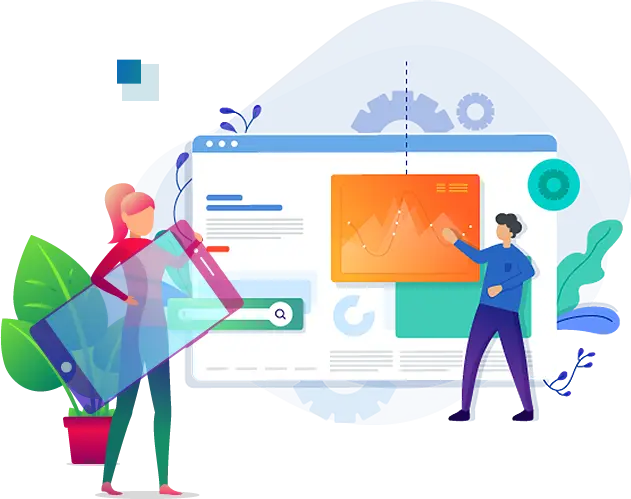 For a business to achieve success, you must have a reliable and professional SMTP as a service that makes the plan of email marketing a huge success. As most organizations are going on the web, the need for email advertising is expanding continuously. Notwithstanding, conventional active mail servers neglect to meet the requirements of an effective email marketing procedure. Consequently, most organizations that depend vigorously on email marketing utilize a dedicated SMTP server or Private Bulk email server for bulk email marketing. Digitalaka provides the best dedicated smtp mail services & SMTP server service providers in India.
Since most of the emails are delivered to a small number of recipients, it is easier to manage. But it may get very difficult if you're willing to use mail for marketing purposes. Many instances like a web app that sends out email notifications based on your users' behaviors are sometimes labeled as spam. It is here where one can make use of the SMTP relay service. Suppose you continue using your regular SMTP Server For Bulk Email and conduct other operations.
In that case, it will have adverse effects on your delivery rate. Suppose you continue using a reliable SMTP Server Provider to send out bulk emails and conduct other operations. In that case, it will have adverse effects on your delivery rate. It might, for an individual, become an expensive investment to regularly monitor and customize your email server. Since keeping emails from landing in the spam box is a task that requires time and sum, you may choose the SMTP relay service for the same. This SMTP Server For Email Marketing enables one to manage enormous outgoing email-related jobs and automated emails. The best part is that it doesn't even interfere with the business' regular email interactions.
Features of SMTP Server Provider in India
Why Choose Us
Tension-free Email Setup With Our reliable SMTP Mail Server for bulk email
We at Digitalaka ensure you enjoy the painless experience of sending transactional emails as well as email marketing campaigns. Our SMTP Mail Server services are flexible and work wonders for a successful SMTP Server For Email Marketing. It's very easy and simple to send unlimited transactional emails and Promotional marketing emails to all the selected contacts from your mailing list.
Something more about services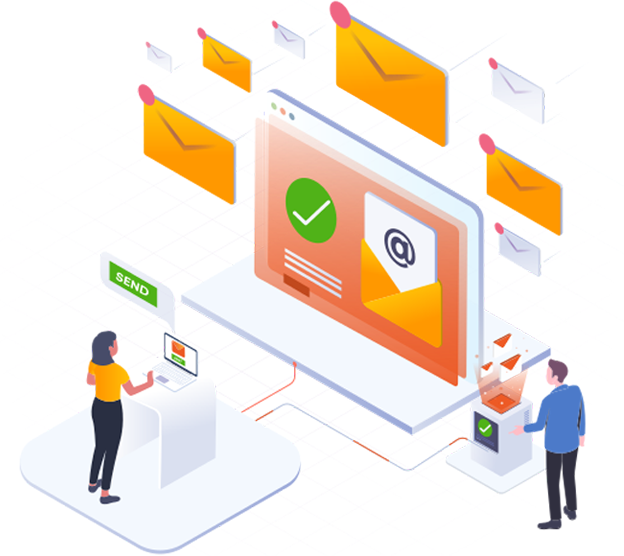 SMTP mail Relay Services
Initiating the process of sending emails can be done with the help of an SMTP relay service. It all starts with adding and verifying your domain name and then selecting an option between a shared or dedicated address. Make sure to set up your SMTP server in the final step.
Collect the complete information about SMTP server settings: how to configure the SMTP server, what the SMTP Server For Bulk Email is all about, how the email marketing platform process works, and how to explain the commonly displayed SMTP error messages and sort out them. Make sure to collect the information on how to secure the SMTP server for email communications.
In order to use our SMTP server to send emails, all you need to do is set your username and password. Our experts also help you to change your email configuration and set up your account so that you can have the best bulk mail-sending experience. If you don't want to spend your resources and time on SMTP then you may also check out our Email Marketing Service.
What is mail relay?
A mail relay is a way of moving an email from one particular server to another. Think of the mail as a baton; if you're an employee of Company A who needs to send an email to somebody at Company B, what you do is connect to your company's SMTP mail server. In contrast, your mail is being sent to Company B's server. This process of one server receiving email from another is referred to as "relaying." Note, that the server remains the same in case the email ID of the recipient is the same as that of the sender. Therefore it is not called relaying. Instead, you may imagine it as mailing a paper letter to your friend who lives in the same town as you.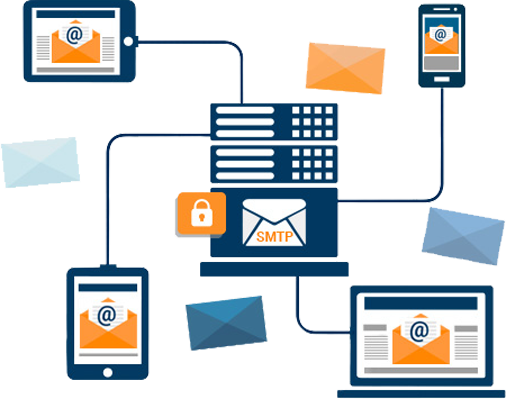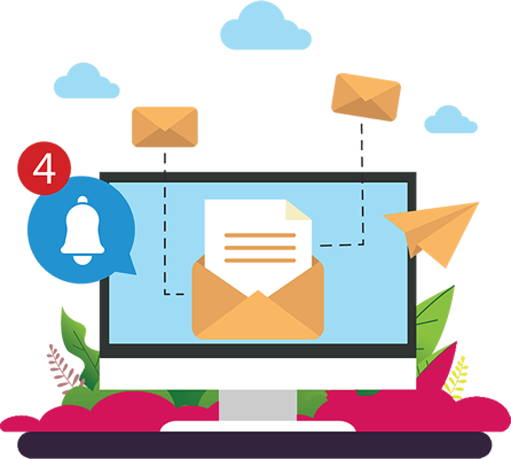 What is an SMTP relay service?
You may rely on SMTP Relay services for sending bulk emails via a trustworthy third party like Digitalaka, SMTPget, or Sendinblue. This relay mechanism is primarily seen while delivering big batches of emails or while sending out automated transactional emails such as delivery confirmations, password resets, etc.
Most of the users who use it at a business level are prone to surpassing the limit of sending out emails, which necessitates the use of enterprise-level email-sending tools. Therefore, people owe this SMTP Server For Bulk Email that assists organizations in sending huge amounts of emails without landing in the spam box.
What are the benefits of Smtp mail relay services?
The benefit of using Smtp mail relay services provides a way to use a separate domain and mail server for sending bulk mailing. This provides a way for businesses to send branding messages to thousands of recipients without having the problem of domain blocking as spam. it changed the mailing route through a trusted third party to help deliver a high volume of emails. its specialization of sending large batches of mail without being spam, such as newsletters, or automated transactional email, such as delivery confirmation and reset password.
FAQ
Frequently Asked Questions
What Is SMTP Server And How It Works?
Standard email protocols are used to send and receive emails. For instance, sending messages and handling of outgoing mail requests are taken care of by the SMTP protocol. Receiving messages is taken care of through the IMAP and POP3 protocols, which are further utilized to process incoming mail.
How do I set up an SMTP server for email?
1.Choose the option "Account Settings" in your mail client, which will be displayed in the "Tools" menu.
2. Then select the "Outgoing server (SMTP)" voice.
3. Make sure to click the "Add" button to set up a new SMTP account. You will see then a popup window on the screen.
4. Focus then to fill the voices as follows.
What is SMTP Relay Services?
SMTP relay services are used to deliver bulk and transactional emails by steering the mails through a reliable 3rd party.
Why do I need an SMTP server service provider for my business?
An SMTP server service provider can help you send professional emails with your own domain name and ensure high deliverability rates. It also offers features such as authentication, encryption, and tracking, which can improve the security and effectiveness of your email campaigns.
How do I choose the right SMTP email server for bulk emails for my business?
When choosing an SMTP email server for bulk emails, consider factors such as pricing, features, deliverability rates, customer support, and ease of use. It's important to select a provider that can meet your specific business needs and budget.
What is a dedicated SMTP Server?
Dedicated SMTP server services are a kind of service used to send high volume mailings/transactional emails. This service ensures you to enjoy the best delivery rate in the least possible time.
What are SPF and DKIM?
SPF records and DKIM are email authentication technologies used to safely send and receive emails. They are essential when using SMTP or bulk mailing.
Why should we get a dedicated IP address?
Dedicated IP helps in sending emails in large volumes. Dedicated IP gives you more control over your sender reputation as multiple people are not sending emails from a single IP. Also dedicated IP is recommended to people who send more than 100,000 emails monthly.
What are the advantages of using an SMTP server provider?
Using an SMTP Server provider can help you ensure fast and reliable email delivery within the country. It can also help you comply with Indian data protection laws and regulations, such as the Personal Data Protection Bill, by offering secure email services.
Is it easy to set up and use an SMTP mail server?
Yes, most SMTP mail Servers offer user-friendly interfaces and easy-to-follow instructions to set up and use their services. They also provide customer support and technical assistance to help you troubleshoot any issues that may arise.