If you are in marketing, don't you ever feel the sudden urge of sending out daily email newsletters that get opens and clicks, which will ultimately help you establish your brand's personality and help you form connections with your customers?
Fortunately, there is a surprisingly simple tool that may help you improve the effectiveness of your email marketing. And that miraculous tool is emoji.It is one of the most efficient and fast methods to engage consumers and make your brand or company appear approachable to the audience.Emojis' main role is that they will increase the number of eyeballs on your email content by elevating your brand's tone of voice.
If you start utilising emoji in your emails when you are performing email marketing, in the subject lines, the rates at which your emails are being clicked open would see a spike in numbers and most probably, they would be more than doubled.
What are the best practices you should follow before using in emails?
Before you start any new endeavour, it becomes really important for you to add new information to your existing knowledge, and as your aim here is on emoticons in your emails, remember the important dos and don'ts while you are performing the same. This knowledge about wrongs and rights comes to us from what we heard small business owners and other marketing experts comment about the typical benefits and drawbacks of using emojis in email marketing.
Let's begin by learning what procedures you should follow each time you add an emoji.
Double check the emoji you use throughout all the platforms
You can't expect each email client to have the same operating system and social networking site, as each and everyone has their own set of emojis. Although, some of them are nearly identical. Others have distinct enough appearances to influence meaning as well as user experience.
So before sending out bulk emails, you should always test how the emojis you've chosen to add to your mail looks like on different devices. Emojipedia categorises and names all of the various emojis. This platform is great as it displays how they appear on any platform, including Apple iOS, Android, Gmail, and Microsoft, as well as everything in between. You can also use this platform to check out if they would or won't appear just as a simple box instead of an emoji on your client's device.
Ensure that what you mean is clear when you send out emoji
Once using a service from a certain kind of platform, if you've ensured that your emoji is legible across all devices, but at the same time, you also need to ensure that it translates across all age groups too, and possibly ethnicities, and cultural backgrounds as well.
So, there is a fist bump emoji that many people in old age takes as a pinch on their face, which leads to miscommunication. So what you might want to do is to limit yourself to using just the famous emoji, which have a clear meaning that will help avoid any confusion or disrespect.
So what you might want to do is to limit yourself to using just the famous emojis, which have a clear meaning that will help avoid any confusion or disrespect.
Other ways in which you can be considerate about emoji in context to email marketing are as follows:
Emoji you use should convey a joyous tone rather than sad
Pick an emoji of your choice which becomes a signature for your brand
You need to keep in mind visually challenged too while curating content so that when the use tech to read what's written, they can understand the meaning without any obstacle.
As a brand, you should also promote inclusivity while addressing the audience; this can be done using the default "yellow" skin tone as an emoji.
Here is a list of don'ts that is very crucial to understand when you are using emojis while marketing:
Replacing words for emoji is a very bad idea; it makes your content difficult and inaccessible, it might also hamper the meaning you're trying to convey.
Limit your emoji usage and never use them in places which are covering serious information and topics
Use emoji only when its usage blends with the type of brand you have and the type of clients.
Emoji in an email: How to Use Them to Increase Open Rates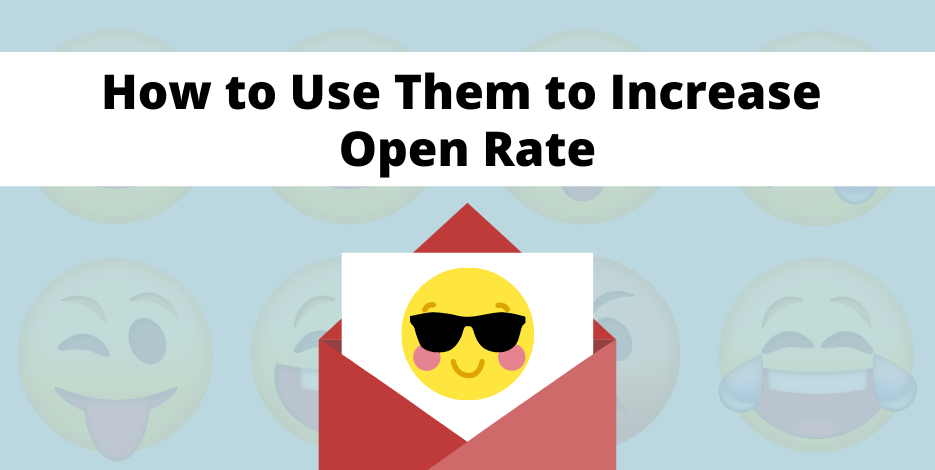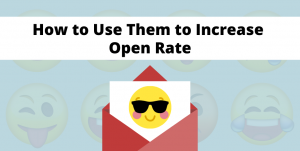 Since you're now aware of the dos and don'ts of using emoticons in email, let's learn how to use them to increase open rates and attract subscribers to visit your business. The key to getting your wish accomplished is by utilising the emoji with intention.
Use emoji in the subject of the mail you are sending
Using this gives you a favourable outcome as it has been seen sixty-six per cent of companies that used emoji in email subject lines had a better open rate. This is because they make your email stand out and provide your reader with a sense of what to expect. But before you start using them, ensure that you are using them cautiously; otherwise, it'd give your mail a spam-like look.
Ensure that you do not add a lot of emojis to the body. The main reason behind this is the fact that too many might confuse the reader, impair accessibility, and make the page look sloppy and unprofessional because your aim, in the end, is to give the email a pleasant vibe without seeming immature or unprofessional.
You can use emoji in a very eye-catching way, like using it as an alternative to bullet points if you're a casual business with a youthful audience.In the end, if you use the emoji wisely, it has the potential of doing the following:
Increase the tone of your speech.
Improves individuality of your brand.
Increase open and click rates on your emails
Increase your product sales.